When:
2023-05-26T00:00:00-07:00
2023-05-27T00:00:00-07:00
Contact:
4D - 4th Dimension Recovery Center
(971) 703-4623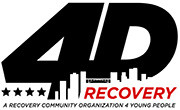 4th Dimension Recovery
 Recovery Meetings – Monday through Sunday

MONDAYS
Love Wins @ 5:30PM
Welcomes youth, LGBTQ+ non-binary and POC. Low-key NA book study meeting that offers an inclusive, safe space for marginalized people.
ZOOM: https://www.zoom.us/j/904315993
A New Freedom, A New Happiness @ 7:15PM
AA Big Book study for all. Newcomers welcome.
No More Methin' Around @ 9PM
New CMA meeting started by young people in the community!
Night Owls @ 11PM
TUESDAYS
Open 4 Attack @ 5:30PM
Men's open recovery meeting that promotes strength through vulnerability and positive feedback
Southern Comfort @ 7:30PM
Traditional weekly AA speaker meeting that celebrates birthdays.
HYBRID, Zoom ID: 345-408-4670
WEDNESDAYS
SOUNDS OF RECOVERY @ 6:00PM
Energized open recovery meeting that holds a safe space for creative shares such as dance, music, poetry, etc.
Night Owls @ 11PM
THURSDAYS
KNUCKLEHEADS @ 7:30-9:00PM
Hybrid AA Closed Men's meeting. We meet frequently so that newcomers may find the fellowship they seek. HYBRID ZOOM ID: 779-832-085 PW: Knucks
Night Owls @ 11PM
FRIDAYS
Sick Friends 7:00PM
OPEN AA MEETING: welcoming of people from all stages of the recovery journey. COME FOR THE COFFEE STAY FOR THE MESSAGE
Night Owls @ 11:PM
SATURDAYS
FOUNDATIONS @ 6:30PM
H.A. meeting started by young people in the community!
SATURDAY NIGHT LIVE @ 8:00PM
Weekly Saturday night speaker meeting. @ new speakers every week!
HIBRID ZOOM ID: 438-175-7799 PW SNL
Night Owls @ 11PM
SUNDAYS
QUEENS W/A SOLUTION @ 10:00AM
A diverse NA meeting for female identifying and non-binary persons with a strong group conscious & reliable home group.
ZOOM: 818-48810-739 PW: queens
S.M.A.R.T @ 5:30PM
To learn CBT skill for coping wi/addiction in recovery
F*CK DRUGS GET HIGH ON LIFE @ 7:00PM
Open NA meeting with a growing community presence
Night Owls @ 11PM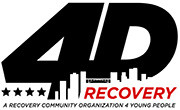 Want to start a new meeting at Milwaukie 4D?
Contact ELLY at: 971-865-9732