When:
July 6, 2020 @ 1:00 pm – 3:00 pm
2020-07-06T13:00:00-07:00
2020-07-06T15:00:00-07:00
State of Oregon, Department of Justice presents
Community Conversations:
What Gets in the Way? The Time for Meaningful Change is Now
LGBTQIA+ Session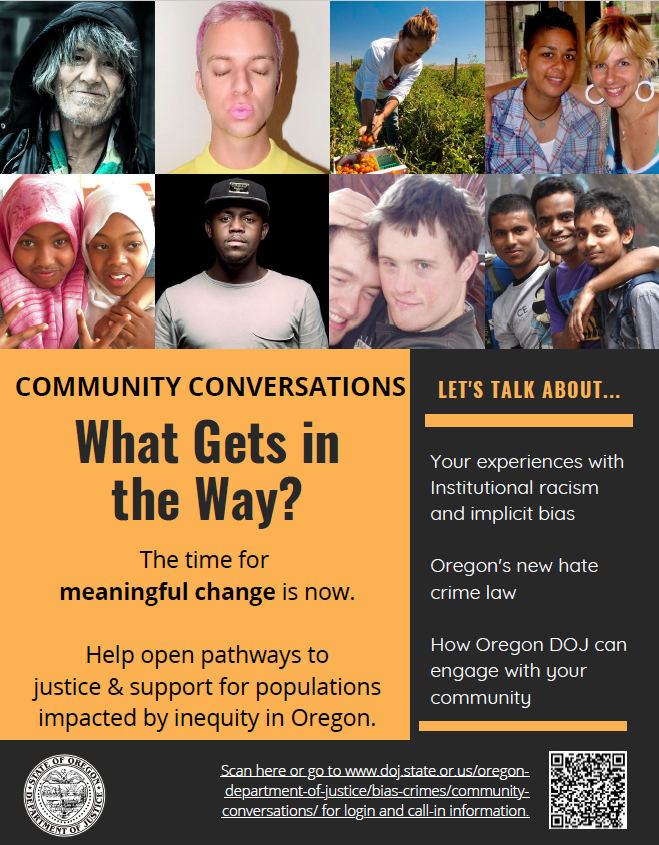 LET'S TALK ABOUT…
Your experiences with institutional racism and implicit bias
Oregon's new hate crime law
How Oregon DOJ can engage with your community
The time for meaningful change is now. Help us open pathways to justice & support for marginalized & oppressed people in Oregon.
LGBTQIA+ Session: Monday, July 6, 2020, 1-3pm
  Click here to join with video:  oregondoj.webex.com »
  Or dial in toll-free for audio-only: 1-855-797-9485
  Event/access code (needed for online and phone participation): 133 804 1146
  Password: justice
Accommodations:
If you require an accommodation to participate in this virtual community conversation or have any questions about participation, please contact Ben Bradshaw:
Please identify the session(s) you will be attending and the accommodation you are requesting.  Closed captioning, ASL interpreters, and spoken language interpreters are examples of accommodations that can be provided upon request.  Please submit your requests for accommodation no later than four (4) days prior to the session you wish to attend.
Information on Joining the Community Conversations Sessions
Using Webex:
All sessions will utilize the program Webex for those who want to participate with video and audio. If you do not want to use Webex and simply want to call in by phone, see below.
Webex is available for free in your App Store and will appear as Cisco Webex Meetings. Please plan to download the App prior to the scheduled Community Conversation session in case you have any issues. Help is available at http://help.webex.com or by contacting Jennifer Lawrence at Jennifer.Lawrence@doj.state.or.us.
Please plan to login to the session early in case there are any technical difficulties we need to sort out.
Login information for each session is different, and is available above.
When you login, you will be asked for your first and last name, your email, and the password. If you would like to participate without providing identifying information, please make up an appropriate name. For your email, you may use community@doj.state.or.us. The password for all sessions is justice.
We have created some instructions for the best viewing experience.
Calling In:
All sessions allow for participation via a toll-free phone number.
Call-in information for each session is the same and the dial in number is available above. Each session has its own event/access code, also listed above.
Once on the call, you will be automatically muted. To speak during the session, dial *3, and your hand will be considered raised. You will then be unmuted and be prompted by a beep, called on by the facilitator and you can share your input. Once you have given your input, dial *3 again to lower your hand in the chat room.
Privacy, Security, and Logistics
Sessions will not be recorded. However, all chat and email submissions are recorded, saved, and may be subject to public records request laws.
Any participant may be anonymous if they so choose. For those logging in online, you may choose to participate with or without your name and/or organization spelled out on the right side of the screen; no video of any participants will be showing during the sessions. You can choose to call in anonymously and will be identified only as Caller 1, 2, 3, etc.
It is important to us that we make these conversations a safe place to share and accessible to communication going both ways.
No registration is required. We chose not to require registration for sessions to protect your privacy.  We do not know every person participating in each session.  However, for your and everyone's emotional safety, our host has the ability to immediately expunge from any session any person engaging in hate speech or showing hate images, and they will be permanently barred from the session.  Please contact Jennifer Lawrence at Jennifer.Lawrence@doj.state.or.us with any questions or concerns regarding this process during the session.
All sessions will begin with all participants on mute. This is because we are anticipating many attendees, and this will help reduce background noise.
Each session will be an open conversation where we will openly discuss a number of topics. We ask that if you would like to speak that you raise your hand in the chat room. (Instructions will be reviewed at the beginning of each session for how to do this.)  When we call on you, we will unmute your audio to share with the group, and then mute you when you are finished sharing.
Please say your name ("This is Ben") every time you speak to the group. This is for the benefit of those participating over the phone and those relying on ASL interpreters.
Fay Stetz-Waters, Director of Civil Rights
Fay Stetz-Waters is the Civil Rights Director for the Oregon Department of Justice. As the Director of Civil Rights, she is committed to increasing the Department's impact on civil rights issues affecting marginalized and vulnerable Oregonians.
Fay has been a strong advocate for justice her whole life. She enlisted in the United States Marine Corps at age 17, where she worked as a field radio operator. While working as a 911 dispatcher at night, Fay earned a bachelor's degree in history and graduated with honors from Trinity College in Hartford, Connecticut. She attended Lewis and Clark Law School, where she wrote on constitutional issues like marriage equality, transgender rights, and crime victims' rights.
She has also worked as an Administrative Law Judge for the Employment Department, a Hearings Officer for the Parole Board, an Equity Associate at Oregon State University, and as a Circuit Court Judge in Linn County.
Fay Stetz-Waters is available to speak to your group.
Talk to Us
Whether it happened to you or to someone else, we can all help track hate and bias incidents.
Non-Emergency Hotline
1-844-924-BIAS
(1-844-924-2427)
Trauma-informed operators are standing by, 9 a.m. – 5 p.m. Pacific time, Monday – Friday. After hours? Leave a message and we'll return your call.
Hearing Impaired? Dial 711 for Oregon Relay
You can report to us online any time:
Other Conversations in this Series:
Dates, Times, and How to Connect
Sessions are intended for participation and input from folks who identify in the specified population.  All are invited to attend, but please reserve input and speaking time for those folks who identify in the specified population.